Brothers / Talking Channel channel
12/17/2020
player
CBLOL 2021 Selected Teams HomeGamerCBLOL 2021 Selected Teams
CBLOL has already announced that the 2021 championship will follow the franchise system. To participate in this contest, 10 teams have already been selected and are awaiting approval from Riot Games.
With select players and their contracts already in hand, Riot will assess and announce the approval of each and every one of them. The date for the announcement is yet to be set, but the teams are already preparing to create the full atmosphere of celebration and competition.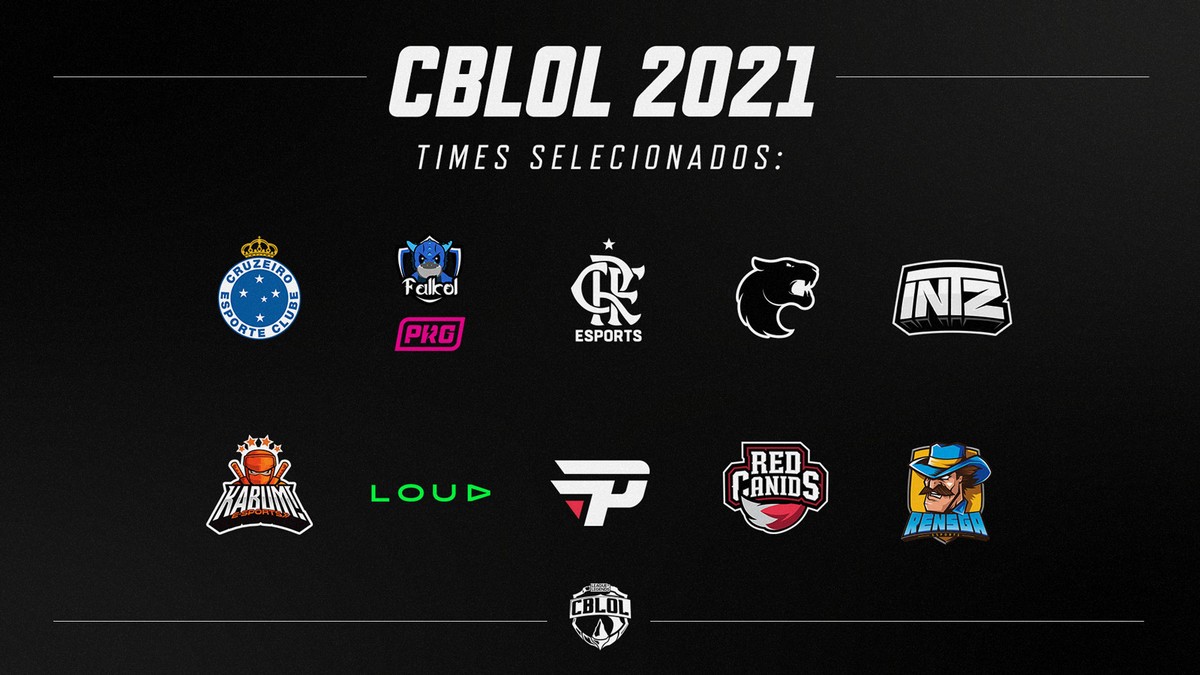 Follow the list of teams and players selected for CBLOL 2021:
FURIA Esports
Above: Javier "Skeeto" Nicoletti
Hunter: Ignacio "Follow" Anderson
Center: Ruan "Anyyy" Silva
Shooter: Pedro "Beenie" Rodrigues
Support: Yan "damage" sales
Winner of the 2020 Best Organization award, FURIA Esports has decided to innovate in its signings this year. In other words, he opted for two Latino signings to assemble the team that will compete at CBLOL 2021. Will it be enough to win this year?
INTZ
Above: Felipe "Bankai" Boal
Hunter: Gabriel "Revolte" Henud
Center: Bruno "Neid" Farias
Shooter: Micael "micaO" Rodrigues
Support: Victor "Cabu" Oliveira
Coach: Lucas "Maestro" Pierre
For 2021, INTZ has broken its standards by hiring seasoned names rather than betting on new promises. Despite being the greatest champion of the championship (with 5 titles), the team did not achieve the desired result and decided to innovate.
eSports cruise
Above: Alexandre "Truklax" Rodrigues
Hunter: Luis "st1ng" Martins
Center: Júlio "NOSFerus" Cruz
Shooter: Pablo "pbO" Yuri
Support: Gabriel "Hawk" GOmes
Coach: Iago "Politico" Cerqueira
Cruzeiro eSports debuts on CBLOL. The team had already started playing esports through the FFPL from Free Fire and are now looking to join the competitive League of Legends as well.
Flamengo eSports
Above: Lee "Parang" Sang-won
Hunter: Filipe "Ranger" Brombilla
Center: Arthur "Tutsz" Peixoto
Shooter: Luis "Absolut" Carvalho
Support: Ygor "RedBert" Freitas
Trainer: Serdar "Pades" Pades
Flamengo e-Sports, 2019 CBLOL champion team, has a strong viewership! Therefore, the team will have to work hard not to disappoint in 2021.
pain games
Above: Leonardo "Robo" Souza
Hunter: Marcos "Cariok" Oliveira
Middle: Thiago "towns" Sartori
Shooter: Felipe "brTT" Gonçalves
Support: Han "Luci" Chang-hoon
Defeat in the CBLOL 2020 Stage Two Finals prompted INTZ to re-evaluate its line-up. Therefore, the team finally decided to change one of their positions.
Kaboom! eSports
Above: Choi "Wizer" Ui-seok
Hunter: Lee "Ryan" Jun-seok
Center: Danniel "Evrot" Franco
Sagittarius: David "Disave" Chaves
Support: Matheus "Professor" Leirião
Coach: Jean Francois "Nuddle" Caron
At first, KaBuM was worried about its fans. Losing 4 names from their team and not signing until the end of the transfer window, many thought they would be left out this time. However, the team is trying to get back in the game and has hired two new Korean names for its composition.
Rensga Esports
Above: Bruno "Kennedys" Garcia
Above: Thiago "Kiari" Luiz
Hunter: Leonardo "Erasus" Faria
Hunter: Lucas "Froststrike" Valverde
Center: Eneas "Enga" Protti
Middle: Bruno "Hauz" Augusto
Sagittarius: Vinicius "bydeki" Hideki
Sagittarius: Matheus "Trigo" Nobrega
Support: Moyses "Kly0n" Maciel
Support: Pedro "Zirigui" Vilarinho
Trainer: Renato "Raven" Dimas
Rensga's entry into CBLOL came as a surprise. The team formed in 2019 has already shown that it can teach the older teams a lot and, moreover, can become a tough match in the fight for titles.
ACCORDING TO
Sagittarius: Igor "Duds" male
Support: Denilson "Ceos" Oliveira
LOUD is already one of the most anticipated names for this championship. With its strong social media influence and millions of followers, the team previously entered Free Fire competitions. It even won the Copa America in 2020. However, the team has only presented two names at the moment, so follow the expectation.
RED canids
Above: Guilherme "Guigo" Ruiz
Hunter: Gabriel "Aegis" Lemos
Center: Adriano "Avenger" Perassoli
Sagittarius: Alexandre "TitaN" Lima
Support: Gabriel "Jojo" Dzelme
Trainer: Rabbit "Coelho" Rabaiolli
After excelling at MSI 2017 and the Challenging Circuit, the team is ready to take the next step and rise to the CBLOL level. So players will have to do their best to show that RED Canids is here to stay.
preax
Above: Francisco "fNb" Braz
Hunter: Yan "Yampi" Petermann
Center: Marcos "Krastyel" Ferraz
Shooter: Pedro "Matsukaze" Gama
Support: Willyan "Wos" Bonpam
Coach: Rodrigo "Kalec" Rodrigues
As a result of the merger between the PRG Esports teams and Falkol, Vorax presented the team with a new identity and should be even more aggressive and original. While keeping some of the PRG names, the team also has signings.
So, were you excited about the lineups for CBLOL 2020? In the meantime, we just have to wait for the new updates from Riot Games and the selected teams. In the meantime, you can follow more eSports gaming content on our website by clicking here.
If you need an upgrade for your machine and want to play with even more quality, we recommend our shop by clicking here.